Petite - 54 à 63 mm de long - et seule de son genre, sa période de vol est plus précoce que celles des autres: elle vole de fin mars à début août. Son corps velu et son abdomen épais lui donnent un aspect plus trapu. Chez les mâles, l'abdomen n'est pas rétréci à la taille; ceux-ci patrouillent le long des rivières et canaux riches en végétation aquatique, et sur les prairies inondées.
Photo: Helma
Brachytron pratense F

Hairy dragonfly
Photo: Alain Cochet
Brachytron pratense
Hairy Dragonfly
Brown-red, the
Green-eyed hawker measures from 62 to 66 mm long presenting a golden triangle on S2 with green eyes. Present in half of France, it is rare and very localized in Spain but especially in England. Its habitat is confined to stagnant and
slow running
waters. Males of this species perch more frequently than the males of other species.
Photo: Marc Heath
Aeshna isoceles
Green-eyed Hawker, adult male
Photo: Alain Cochet
Aeshna isoceles
Green-eyed Hawker
Photo Olivier Payen
Aeshna grandis
Brown Hawker
Aeshna mixta, mâle adulte
Migrant Hawker, adult male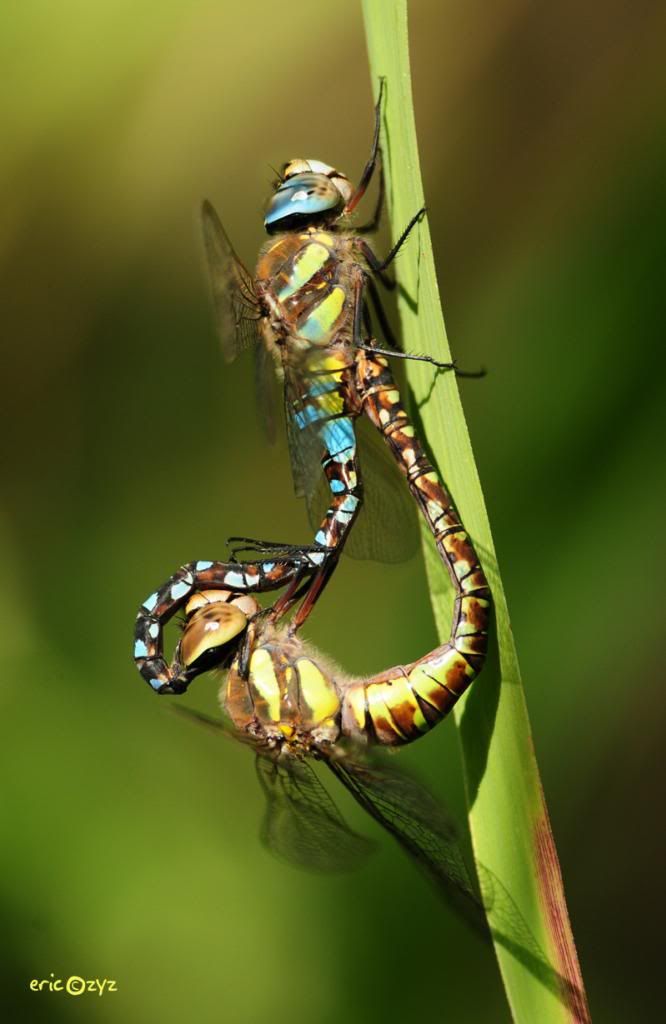 Photo: Eric Czyz
Aeshna mixta
Migrant Hawker
Photo Morikan
Aeshna mixta, détail de l'aile et "clou" visible sur S1


Wing detail and visible T on S1
Jusqu'à 8,5 cm de long pour une envergure de 11 cm, les mâles sont bien connus pour patrouiller infatigablement le long des lacs et des étangs. A la recherche frénétique des femelles pour un accouplement, ils passent également leur temps à chasser les autres mâles ainsi que ceux des autres espèces.
Anax imperator, vieux mâle
Emperor dragonfly, old male


une bleue...
...et une verte:
Les femelles adultes sont généralement vertes mais certaines tirent sur le jaune, d'autres ressemblent aux mâles.
Les immatures sont principalement marron et jaune paille.
Aeshna cyanea
Blue Darner
,
immature
male
C'est une des plus petites æschnes avec A. mixta, mesurant de 57 à 66 mm de long.
Certaines années sur certains sites, elles peuvent être particulièrement nombreuses et trouver des mâles au repos l'un sous l'autre sur le même perchoir est alors courant:
Les œufs sont déposés dans les parties humides du sol, en l'occurrence ici des traces de sanglier:
Un second mâle tente sa chance en vain: